We're counting down the days until the first ever Midwest Home Design Week, which lasts from February 10th-16th. The week will be chalk full of different speakers, design advice and networking opportunities! I had the opportunities to interview two smart, design focused women involved with the event; Lisa Peck of LiLu Interiors and Jen Ziemer of Fiddlehead Design Group. Today, we'll talk with Lisa Peck and learn more about her company and role within the Design Week. Check back tomorrow for my interview with Jen Ziemer. Make sure to register for Design Week tickets today!
Design week will feature several breakout seminars from ASID (American Society of Interior Designers). I spoke with Lisa Peck, chair of the ASID Design Week Committee and learned a little more about her role in design week and her company's design philosophies.
Lisa Peck of LiLu Interiors
Tell me about the Midwest Home Design Week and your role with the event.

Midwest Home Design Week is a entire week celebrating home design. I am super excited for this week heating up my passion for design during these cold winter months. The kickoff day is Sunday February 10th and Thom Filicia, who I love to hear speak, is the keynote. We are all in for a treat. The rest of the day and the week are filled with seminars, open houses and informational session meant for design enthusiasts, fans and newbies. I am serving as the chair of the ASID Design Week committee.
ASID is one of the sponsors of Design Week and we are putting together two seminars for Sunday and a stand-alone event on Tuesday February 12th. On Sunday I will be presenting Design Live along with Brandi Hagen, another award-winning local interior designer. In an interactive session, we will create a living room design along with the audience who will vote on what pieces to include in the vignette that will be revealed during a happy hour after the seminars.
Also on Sunday, meet local designer stars, Jim Nobel, Jen Ziemer, Mary Jane Pappas, and Lucy Penfield, who will share what really inspires them and how to turn inspiration into a finished design. (*Make sure to register for tickets to Sunday's event ASAP! Click here to register for Sunday's event*)
On Tuesday February 12, join ASID Minnesota for an exclusive adventure where you will explore the interior design scene in the Twin Cities. First stop: a luncheon featuring a panel of top local designers answering the questions you've always wanted to ask. Panelists include these well-recognized, award-winning, interior designers, Renee Hallberg, Bruce Kading, Laura Ramsey Engler, and Martina Willegalle. Tips and tricks will be shared. A designer at every table will then reveal an inside peek at what's trending during showroom tours at International Market Square. Our committee has put together an experience for design enthusiasts who want to know more about how designers work and what the most fabulous resources in the Twin Cities have to offer. (*Note, the deadline for this event is fast approaching. Make sure to register for tickets by February 4th!*)
The entire agenda is is available here.
Besides your own seminar, what seminars are you looking forward to attending the most?
I am looking forward to the whole week. It's not often we get to celebrate what we do and invite the public to see the insider's view of our design world. If at all possible I am going to as many events as I can. In particular, I would love to see all the new offerings at Uson and Hickory Chair.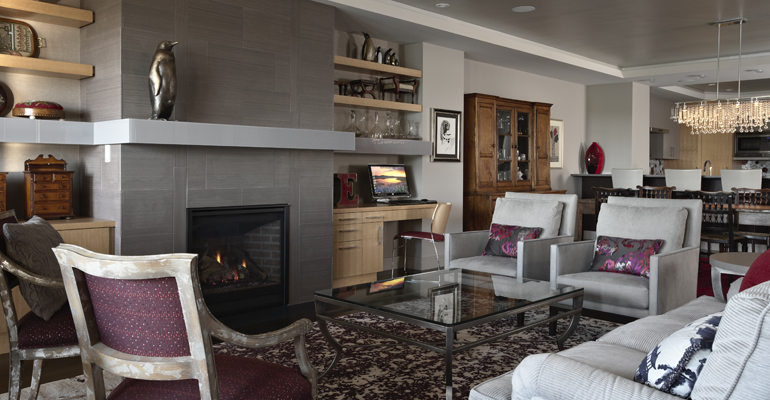 Photo by Susan Gilmore Photography-from LiLu Interiors
If you could list just one way to pull a room together, what would it be?
Start with one item that expresses the inspiration for the room, either a wonderful rug with just the right feeling or a "magic fabric" that brings all the colors you want to use in the room together with just the right feeling.
What is your mantra at LiLu Interiors?
We have a few mantra's but here are two:
Our clients dreams come first, we must create spaces that help them create the life they are dreaming of.
If everything in a room is special then nothing is.
Thanks so much Lisa! Make sure to visit the Midwest Home Design Week from February 10th-16th and say hi to Lisa and the rest of the gang from Lilu Interiors and visit all of the other great designers, showrooms, manufacturers!